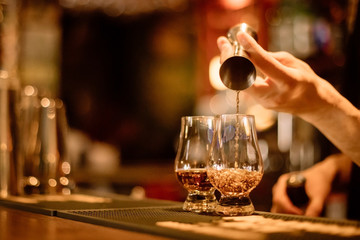 Torn between the City and the 'burbs? Each has its own charms, and if an active night life is on the list of priorities, maybe more information is all you need to help with the decision.
Montclair New Jersey has many great local eateries, kitchens and pubs to satisfy a variety of tastes. Among these are several offering specialty crafted cocktails that may be worth dressing up to enjoy or dressing down and making part of your weekly routine.
A Parisian flavor spices things up quite nicely over at Faubourg of Montclair, open 7 days a week to accommodate everyone's schedules and tastes! Faubourg's offers tons of fun with magnifique' creations including craft beers and an expansive specialty cocktail menu that's c'est délicieux!
With a little imagination it won't be hard to picture yourself in the late 1930's, out for a night on the town as you are served from the beautiful Art Deco bar found at Cowan's Public. While there, be sure to order from the traditional pub menu and sample the artisanal spirits concocted from behind that work-of-art.
You won't be disappointed if you add DeNovo European Pub to your visit list while in Montclair! Be transported to Europe to sip deliciously crafted cocktails with wonderfully naughty names! Cocktail of the day changes often enough to call you back again and again to lose yourself in Continental fare, served up nightly.
There's surely no place like home, and the Montclair area is home to fantastic American dishes that can only be described as "comfort food" at Ariane. Some of the best local bartenders attend to your cocktail delights with a dash of flair and fun.
Speaking of home, perhaps Montclair or the surrounding communities really are the best place for you to call home! See everything the real estate market in the area has to offer: https://www.njrealestatehomesearch.com/search/advanced_search/
Need a tour of available homes that suit your fancy? Your local market specialist has the entry key to view every abode you might want to call your new home!
#ThisIsNewJersey