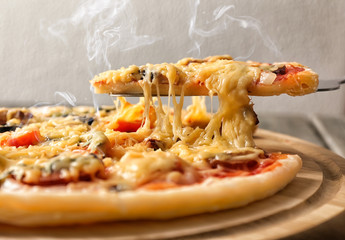 When the choices are many and all of them are good - PIZZA IS WHAT'S FOR DINNER IN MONTCLAIR! Once a week, twice a week or all weekend long. Pizza is the perfect blend of all the recommended food groups - dairy, grains, vegetables, proteins. When pizza is the meal, it's hard to go wrong, and these popular pizza places in Montclair all offer up something special for every pizza lover.
Desiring a dine out meal off the well traveled path? Craving an authentic Napoletana pizzeria experience? The charming atmosphere and fresh pies found at Bivio Pizza may be just what will satisfy!
But that's not the only choice for authentic and fresh. Wood fired pizzas and more menu selections are the specialties offered at Brick+Dough on Walnut Street. You can even relax with a cup of your favorite hot coffee while you wait.
The Town Pub offers yet another take on everyone's favorite, the Greek Salad Pizza. Haven't tried it yet? No time like the present to give your taste buds a treat. Dine in or take out, you won't be disappointed.
Montclair has still more for the pizza lover to enjoy. Prefer a good old-fashioned NYC style slice oozing cheese and yumminess? Villa Victoria Pizzeria is the place you'll want to order your next pie from then! Pan pizza, Sicilian pizza, whatever style you like best, Villa Victoria Pizzeria has it, even gluten free is on the menu here.
Family starved and wants dinner in a hurry? 65 years of traditional family style thin crust pizza to satisfy every hungry member of your family! Awards, rave reviews and the neighborhood atmosphere only a long time pizzeria can conger up is waiting for you at Star Tavern Famous Pizzeria.
No need to cross the river when excellent pizza choices are right in your own neighborhood in Montclair! #ThisIsNewJersey
What's that you say? You don't live in Montclair? Well, we can fix that when you click right here: https://www.njrealestatehomesearch.com